JOE'S STEADICAMS
FILM LOCATION - RATECARD - HEALTH AND SAFETY
COMMON QUESTIONS - INTERESTING (maybe) ARTICLES - TRAINING


The Steadicam is a camera stabilization device that, in the hands of a skilled operator, combines the image steadiness of a dolly with the freedom of movement of a hand-held shot.

PHILOSOPHY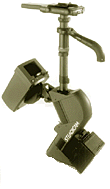 Steadicam sequences once only seen on big production movies like, Casino, Goodfellas and The Shining are now being used more and more in television production.
One of the main drivers for this increase in steadicam use, especially in sport, in TV, was the development of reliable radio video links.


Football, rugby matches, athletics, ER, Coronation Street, Emmerdale even News and current affairs now all make great use of the steadicam.




The ability to give moving pictures a third dimension with depth and flow is something we love doing.

Camera movement is more than just a gimmick used in high-end production. It is a powerfully creative tool engaging the viewer with a stream of visual information not possible with a camera on a tripod. click for Temporal Parallax Article

Steadicam is an ingeniously clever invention that allows camera moves in almost every direction, shots that would take a huge amount of effort and manpower with dolly and tracks can be achieved in moments with the steadicam

We can offer a choice of Steadicam rigs depending on application and budget. click for rate card

One thing to remember when hiring our steadicams is we are all first and foremost trained camera operators.

Our aim is to develop good relationships with our clients. We treat all jobs as if we will be working with you for decades not just for the day. We want to help you create the best possible pictures for your production using dynamic and involving camerawork.
CONTACT DETAILS email: joe*at*joesjibs.co.uk 07973 226532 or 020 8671 5708